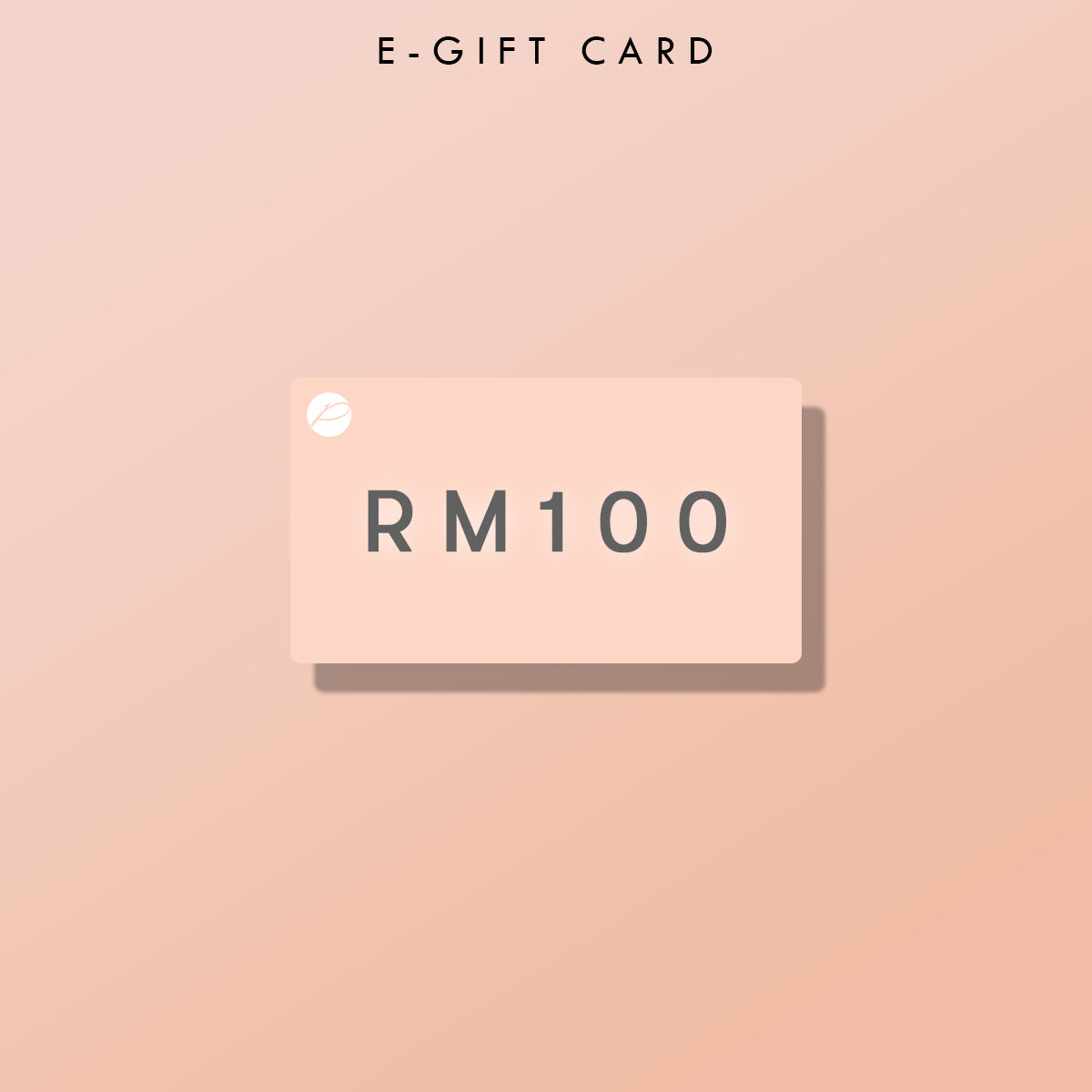 Sale price
RM100.00
Regular price
Estimated Delivery (Malaysia & Singapore) : Get withinDec 03 - Dec 07
Product Description
Shipping Info
Personalized Jewelry
Our Packaging
Gift a loved one with a Plenty Gift Card
Terms & Conditions >> more info
Card will be sent by email within 24 hours of approved payment
| | |
| --- | --- |
| Free Shipping | Countries |
| order above RM 100 MYR | Malaysia (West) - WM |
| order above RM 140 MYR | Malaysia (East) - EM |
| order above RM 250 MYR | Singapore |
 *Please note that this minimum spend is only applicable after discounts and vouchers have been applied.*
| | | |
| --- | --- | --- |
| Countries | Delivery Time | Rates |
| West Malaysia (WM) | 1-3 days | RM 7 MYR |
| East Malaysia (EM) | 3-5 days | RM 15 MYR |
| Singapore | 4-6 days | RM 30 MYR |
| Taiwan | 4-6 days | RM 60 MYR |
| Thailand | 4-6 days | RM 65 MYR |
| Philippines | 4-6 days | RM 69 MYR |
| Hong Kong | 4-6 days | RM 70 MYR |
| Canada | 4-6 days | RM 85 MYR |
| Brunei | 4-6 days | RM 85 MYR |
| Belgium | 4-6 days | RM 88 MYR |
| Austria | 4-6 days | RM 88 MYR |
| France | 4-6 days | RM 88 MYR |
| Ireland | 4-6 days | RM 88 MYR |
| New Zealand | 4-6 days | RM 88 MYR |
| Norway | 4-6 days | RM 88 MYR |
| Denmark | 4-6 days | RM 88 MYR |
| Switzerland | 4-6 days | RM 88 MYR |
| Australia | 4-6 days | RM 90 MYR |
| China | 4-6 days | RM 90 MYR |
| Bangladesh | 4-6 days | RM 96 MYR |
| Germany | 4-6 days | RM 98 MYR |
| United States | 4-6 days | RM 98 MYR |
| United Kingdom | 4-6 days | RM 98 MYR |
| Macao | 4-6 days | RM 85 MYR |
| Vietnam | 4-6 days | RM 105 MYR |
| Italy | 4-6 days | RM 130 MYR |
| Netherlands | 4-6 days | RM 130 MYR |
| Japan | 4-6 days | RM 135 MYR |
| South Korea | 4-6 days | RM 135 MYR |
| Portugal | 4-6 days | RM 150 MYR |
| United Arab Emirates | 4-6 days | RM 150 MYR |
| Jordan | 4-6 days | RM 210 MYR |
| Saudi Arabia | 4-6 days | RM 210 MYR |
| South Africa | 5-7 days | RM 250 MYR |
| Brazil | 5-7 days | RM 250 MYR |
Please allow 1-2 business days ( not include weekend and public holiday ) for us to process and dispatch your order. PLENTY Team pledge to dispatch every order immediately. For holiday season, Christmas, New Year, Valentine's Day Etc. We will take more time to fulfil the parcel and we will try our best to ship out asap.
• Deliveries will be made from Monday to Friday (except Weekend and Public Holidays). Please note that delivery times commence from the date of dispatch. The day as we mention above, is the business day (not include weekend and public holiday).
• Kindly ensure your shipping address is accurate, as we don't allow amendments after your order number is generated.
• Our courier service providers are Fedex, DHL eCommerce, Pos Laju, Pgeon, or etc.
• We are unable to deliver to P.O. Box addresses. For university/college campus addresses, your orders can only be delivered to the administration office or mail room.
• If your parcel is returned to us due to being undeliverable, you will be contacted for an alternative postage address. We will resend the package to this new address but you are required to pay the extra delivery charge for re-postage. We can only repost orders once. If you decide to cancel your order after it has been returned to us we will not be able to refund the shipping costs & refund of cash or payment to your original payment method (i.e. Online Banking, Credit Card, Paypal) will require a handling & processing fee, which will be deducted from the amount to be refunded to you. 
*Customs Duties, Value Added Surcharges and other relevant government charges and taxes are not included in shipping rates.
*Unfortunately, we cannot be responsible for any delays caused by destination customs clearance processes. We are here to ensure that your goods get to you as quickly as possible. 
If you have any inquiry, please feel free to email us at cs@plenty.my 
A personalised item is any piece of jewelry that we have engraved especially for you. For example: the Personalised collection, which can be personalised with laser-engraved text. To get started, click the 'Personalize' button.

What you decide to get engraved on your jewelry is entirely up to you, as long as it's within the character limit. *We are unable to engrave any language other than letters, numbers, spaces and these symbols: # + = . & ♡ ∞ ☆.*
Common engravings are: significant dates, name and initial.
*Live product customizations are for visual reference only and are not a perfect representation of the final product. Our experts will ensure the proper size and placement of your message. All copy will automatically be printed centered and will not be adjusted left or right. As each piece is individually engraved, please note that there might be slight variances in appearance across each individual engraved piece.*
We are unable to process any engraving request containing profanities or inappropriate language. Where possible, we will contact you to seek an alternative engraving.

We need a little more time to create your amazing, personalized piece. Please allow an additional 1-3 business days processing time for personalized jewelry orders.(excluding weekends).
Orders that have both a personalized and non-personalized item will be placed on hold and despatched together when your personalized jewelry is ready.

Please note that any engraved pieces are non-returnable and non-refundable (unless faulty). Please ensure you have entered in your preferred text accurately before placing your order.
**We limit one box per order and
additional package
will be charged. Save the earth by only getting what you need and always think of ways to recycle!